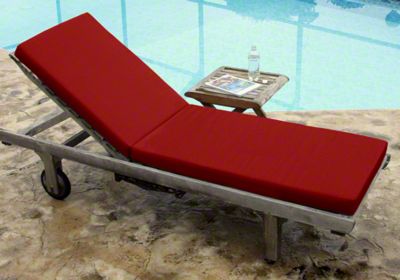 Custom chaise cushions are available in standard and deluxe styles for both single and double chaise lounge chairs. They can be made with 1, 2, or 3 breaks, making them ideal for any chaise lounger. Fabric ties are also available on all of our chaise lounge cushions.
Our standard chaise cushions are filled with formed poly fill for outdoor use or standard foam for indoor use. We also offer a single chaise pad, which is a thinner, more economical option. Deluxe cushions provide a designer look by utilizing a crown-style, foam fill wrapped in 1-inch poly batting that provides a loft on both the top and bottom of your chaise cushion. We can create custom shapes to fit your unique furniture. Simply provide us with a template.
If you need assistance, please contact our knowledgeable customer service team via email or by phone.
Our custom chaise cushions are proudly made in Toronto Canada.