Cushion Source® maintains a growing commitment to the development of sustainable practices, principles and products (the 3 P's) that will have a positive, long-term effect on the environment. The environmental challenges our local communities face can be substantial, but we wholeheartedly believe that the smallest of green efforts will have an enduring impact on future generations to come. Cushion Source®'s widening stance on promoting green efficacy is a fundamental part of our business, starting at the ground level and working its way up through the final production phases — but it doesn't end there. Each of our employees plays a major role in seeking out and implementing new ways to reduce our subsequent impact on the environment. These influences are echoed throughout the company.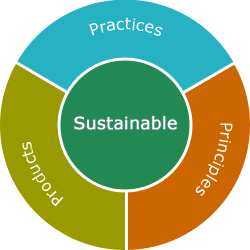 Cushion Source®'s obligation to our consumers is to provide a top-quality custom product by utilizing responsible materials and adhering to proper procedures in the design of individualized products for your home. In fabricating such products, we only aim to provide each customer with a tailor-made specialty item for inviting a healthy, environmentally responsible household. With each new challenge, we are resolved in taking the necessary steps to become more efficient and help minimize our impact on the overall environment, both locally and beyond.
The company-wide eco-friendly initiative focuses on the 3 P's as the underlying factors to promote consistency in every aspect of sustainability and further develop innovative solutions to reduce negative environmental effects. The 3 P's determine Cushion Source®'s success as an advocate for the environment and our potential outreach to the online and local community:
Sustainable practices that range from decreasing amount of plastics and boxes used in shipping to recycling leftover materials.
Company and individual principles that support innovative thinking and personal accountability concerning environmental issues.
Products that are custom-made using environmentally-friendly components.
Sustainable practices
Since its inception in early 2004, Cushion Source® has grown at an unprecedented rate. With such growth has come increased responsibilities to stay competitive in an ever-changing online marketplace and to find ways to limit the impact we have on our natural systems. Although we have included many steps along the way, this work is never finished but is always at the forefront of our ecological journey. There are, however, many energy-efficient and green company-wide actions that are standard practice each day, and we are continually adding to this list: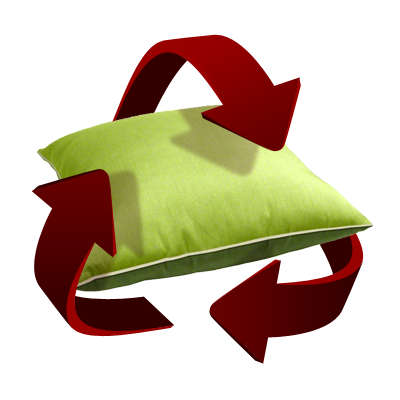 Recycling paper waste and aluminum cans
Using lead-free, energy-efficient light bulbs throughout corporate offices and production facilities
Monitoring and reducing surplus water usage
Monitoring and reducing energy consumption by turning off lights in vacant rooms and turning off computer monitors and appliances when not in use
Numerous environmental safety initiatives are in place to prevent accidents from occurring, following OSHA guidelines and recommendations for chemical and electrical safety.
Cushion Source® also utilizes various sustainable initiatives in the custom manufacturing process:
Unlike other industrialized foam processes, our CumuPlush outdoor filler doesn't contain any harmful chlorofluorocarbons (CFCs) which have been known to contribute to the accelerated depletion of ozone in the Earth's atmosphere. CumuPlush is also fully recyclable.
Our Foam filler is derived from Cargill soy-based polyol that comes from the oil in soybean seed. The organic process of utilizing soybean oil doesn't affect soybean production or food commodities and reduces the dependency on petroleum-based products initially used in foam production.
Post-production steps toward generating an eco-friendly awareness geared to the green movement include:
Working with FedEx to negotiate a significant reduction in packaging material. Rather than using the industry standard corrugate boxes to package and ship our cushions, pillows and cut fabric, our shipping department wraps these products in 6 mil polysheeting. After an initial testing period, Cushion Source® was able to further lightweight the polysheeting material 33% by stepping down to a 4 mil.
Using recycled boxes for shipping certain products, and when this isn't feasible, taking the necessary steps to reduce box size that will consequently decrease the amount of fuel needed in the logistics and distribution of shipped merchandise.
Impacting the Community with Strong Principles
In addition to company standards, manufacturing and shipping procedures, recent outdoor enhancements have brought on a whole new outlook to company-wide "green" improvements. Cushion Source® recently underwent a green revitalization to company property (Spring 2012) with the massive installation of landscape plantings to promote environmental awareness and of course, revitalize the outdoor space.
Community involvement is always a concentrated effort. Whenever Cushion Source® can give back to the local community in some way, we do. One major advancement has been in donating unused fabrics, leftover from cushion production, to local churches and related organizations. These community groups use the fabrics to make such items as bibs for special needs children. Discarded fabrics are never thrown away and many are also used in creating fabric samples to be used by prospective customers during order planning.
Corporate responsibility
Cushion Source® is dedicated to listening to employee concerns, individual resourcefulness, and creative social thinking, especially when these ideas pertain to the environment. There are 4 defining principles that champion our internal core of conserving beliefs: Respect, Innovation, Responsibility and Accountability. Our company positions itself as a leading voice to social improvement and recognizes each individual as a key asset to the viable success of the business.
Cushion Source® respects and supports diversity at all levels — from the hiring process of new employees to meeting the diverse needs of our customers. We realize that different viewpoints lend to a more environmentally-conscious business and will further position our cause as a responsible brand devoted to excellence. Through innovative planning and implementation, we've laid out the groundwork for future endeavors and uncovered tremendous opportunities for advancement. One such corporate venture substantiates these core principles with 2012's brand expansion into Canada. While these sustaining principles are imperative to our business, each one will also be a driving force that sets Cushion Source® apart from future competition, continuing our drive to be accountable and focused on alternative resources that support the green movement for years to come.
Sustainable products for a preserved future
The freedom in choosing an American-made custom product — built on the precedent of sustainable resources — holds no limitations. Primarily known for exceptional custom cushions, Cushion Source®'s talented craftsmen also custom-build pillows, outdoor umbrellas and curtains with fabrics that are advantageous to homeowners and designers alike. When choosing between fabrics, consumers who desire an environmentally-safe, sustainable end product rely on Sunbrella® by Glen Raven. By offering a wide range of Sunbrella® fabrics, Cushion Source® is truly making an environmental difference with each custom product sold.
Sunbrella® and the environment
The Sunbrella® line of high-performance fabrics is very popular in today's textile market because of the superior qualities and extended longevity of such a durable, engineered fabric. Lasting much longer than conventional fabric alternatives, people use less fabric which successively leads to less waste. Made from synthetic, acrylic fibers in a unique solution-dying process, the coloring procedure eliminates hazardous chemical effluents while decreasing wastewater runoff. The reduction of harmful chemicals during fabric production has contributed to a Greenguard certification for all Sunbrella® fabrics as being a low-emitting product that promotes healthy indoor air quality. The environmental benefit largely comes from the "Recycle My Sunbrella®" program that reprocesses consumer Sunbrella® waste and recycles the used materials into products that include newly innovative yarns for use in Sunbrella® fabrics.
The Cushion Source® commitment to the environment is simple: Our inner belief is to act responsibly as a team in promoting our brand by applying company practices, principles and products that will help shape our economy and preserve our environment for future generations. Although we can never totally eliminate our footprint on the environment, we are steadfast in pursuing alternative ways to reduce it.