Cushion Source was founded in 2004 with the belief that all customers are not the same. Each person's individual tastes and needs aren't adequately served by an overseas market of mass-produced products that last a single season. Instead of one-size-fits-all cushions, customers want unique home and outdoor living spaces that match their style and that will last through years of use.
Bringing together sewers, professional designers and a web-savvy development team, Cushion Source was launched to deliver luxurious soft home furnishings nationwide at the click of a button. Like never before, customers from California to New York and everywhere in between could gain access to the finest in outdoor living and interior design custom furnishings.
With the demand for the level of customization and sophistication that came with Cushion Source US, customers in Canada were asking when we would enter their market. In 2011, Cushion Source expanded to Canada with a dedicated manufacturing facility in Toronto. Since 2011, we've grown and added more products with a great customer experience with an emphasis on customer satisfaction!
*The plant and the website depicted in our video are for US-based orders. All cushions purchased on this site come from our production facility in Mississauga.
More than custom cushions
By popular demand, Cushion Source quickly expanded its offerings beyond cushions, soon offering custom throw pillows for indoors and outdoors. Cushion Source's custom pillow selection has now grown to include designer style pillows, such as round sunburst pillows and the chic duvet pillow, that can't be found anywhere else. All made to customers' dimensions and with their choice of hundreds of fabrics, Cushion Source's custom pillow offering is the largest of its kind online.
Breaking free of the figurative walls that its name assumes, Cushion Source also serves its customers with custom drapes for indoors and outdoors. Available in multiple styles, including traditional rod pocket to fanciful goblet pleat drapes, Cushion Source's drapery is — like our custom cushions and pillows — made to the customers' dimensions and with their choice of fabric.
High-performance fabrics for indoors and outdoors
Cushion Source offers hundreds of fabrics to allow you to match your personal taste in design and your practical need for your home décor. With a 5-year warranty against fading, Sunbrella fabric is the premier brand for outdoor cushions, pillows and drapes. However, this outdoor fabric is also soft and beautiful enough to be used indoors. We also offer several other indoor and outdoor brands, including Robert Allen and Sunbrella.
Technologically advanced to serve you
Who thought cushions and pillows could be high-tech? We did. By launching state-of-the-art image rendering technology, Cushion Source can immediately show you what your chosen fabric will look like on a cushion very similar to the one you are ordering, including options such as tie placement and buttons.
Expert customer service to answer all of your questions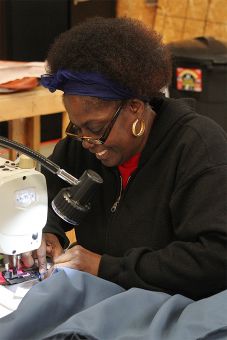 Whether it's your first time ordering or your 50th, and whether you need one cushion or 100, you'll be treated with helpfulness and friendliness every time you contact Cushion Source. You may notice that our offices are not open 24 hours a day. While we hope that this does not cause you any inconvenience, our offices close because we do not employ call centers or answering services; rather, we believe that our customers deserve thorough help and the right answer, even if it means waiting a few hours until we re-open and one of our experienced cushion professionals can personally assist you. Every phone call and email sent to our office is vitally important to us; if you contact us outside of business hours, we will ensure that you get a call or email back as soon as possible after we re-open. If you need immediate assistance, browse our help center.
We work diligently to exceed your expectations: both in the quality of the product and the level of customer service you receive. We are confident that you will be happy enough to tell your friends about us — our business literally depends on it!
Cushion Source Canada is known for providing quality, superior customer service and custom options.
Who are We?
Cushion Source Canada is a trade name of OCG, LLC. Our Canadian custom cushion and pillow manufacturing facility is located in Toronto and is dedicated to meeting the needs of both our residential and commercial clients. Cushion Source Canada is dedicated to providing the highest quality custom cushions, pillows and drapes at the most affordable prices.
Customer Experience:
At Cushion Source, we take customer service to another level. Our custom production team works closely with our customer service team to provide custom standards, quality, and consistency every time you shop with us! You can contact us through email or by phone.
Our Pledge to You:
Cushion Source® pledges to serve every customer -- both residential and interior designers -- with the highest level of sincerity, respect, courtesy and gratitude, delivered with unparalleled responsiveness, expertise, efficiency and accuracy. We offer quality products complemented with the finest personal customer service delivered by caring Cushion Source® employees who take 100 percent responsibility for meeting the needs of every client.
We receive a lot of feedback from our loyal Canadian customers, which drives us to reach the highest level in both customer service and quality custom cushion and pillow selections. If you can think of anything that would make your shopping experience more enjoyable, please contact our dedicated Customer Service department.
Thank you for being a customer!