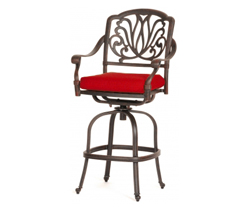 Custom bar stool cushions are available in standard and deluxe styles. We offer rectangular or square bar stool cushions, as well as custom round cushions. Your cushions will be made to your desired thickness with your choice of options such as welting and buttons. Fabric ties are also available on all of our bar stool cushions.
Our standard bar stool cushions are filled with formed poly fill for outdoor use or standard foam for indoor use. We also offer a bar stool pad, which is a thinner option. Deluxe cushions provide a designer look with a crown-style foam fill wrapped in 1-inch poly batting that provides a loft on both the top and bottom of your custom cushion. We also offer custom shapes to fit your unique furniture. Simply provide us with a template, and we will begin crafting your custom shaped cushion.
Choose from our vast collection of hundreds of upholstery fabrics, featuring high-quality Robert Allen and Sunbrella fabrics. With our exclusive online visualization system, you can instantly "try on" and see your fabric and detail options on your custom cushions as you design them. If you would like your furniture cushions made using a fabric we don't currently offer, you may send us your own fabric (COM).
Our custom bar stool cushions are proudly made in Toronto Canada.