Poly Bun: Inner Pillow Stuffed with Loose Poly Fill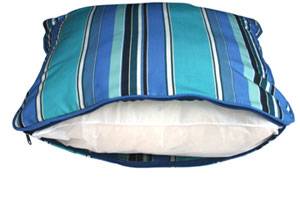 A Poly Bun is simply loose polyester enclosed in a cotton casement, or bun. This creates an inner pillow inside your fabric shell that is not only soft and can tolerate the outdoors, but it can also be removed for easy cleaning or to switch out pillow covers.
This poly bun insert is similar to a traditional bed pillow in that the stuffing is sewn shut into the white cotton casing, and it is covered with a stylish pillow shell in your choice of fabrics.