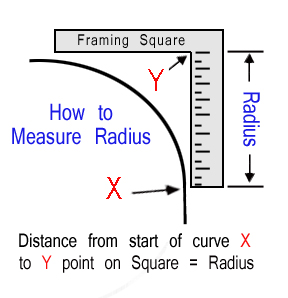 Ordering a Seat Cushion with Standard Round Corners:
All standard radiuses on rounded corner seat cushions are 4" and all tufted style wicker radiuses are 8". What this means is that if you take a framing square and place it so that it is along the edges of your corners (see image to the right) and measure from where the curve starts to the corner of the square-- that measurement will be the radius of your seat cushion's corners. Most furniture with rounded corners will conform to these specifications. If you require a different radius, please order a custom shaped cushion.
Ordering a Seat Cushion with Custom Round Corners-- Template Required:
We require you create a full size paper pattern/template from either newspaper, cloth or craft paper for seat cushions that do not have standard round corners. A template is the only way to ensure getting curves, notches and unique angles properly constructed for your seat cushions. When in doubt, make a template. We ask that you do not make your template from cardboard or other stiff paper. Tape multiple sheets together for larger patterns if necessary. To ensure that your seat cushion with custom round corners order is processed correctly, read and follow the steps below.
Making a Template for your Seat Cushion with Custom Round Corners:
Step 1:
Lay a sheet of paper on the chair seat and press the paper flat all along the bottom of the seat. Make sure to press the paper down firmly along the outside edges of the seat .
Step 2:
Draw around the outside edges of the seat where you would like the edge of the cushion to be and cut out the shape. Keep in mind, we will make the cushion to the exact shape and size of the template that you cut out and provide us. If you would like rounded corners, please cut out the exact rounded corners you prefer.
Step 3:
After you have cut out the pattern, test that your pattern fits as well as possible. If you need to reshape an area or extend your pattern, just make sure you securely tape the paper together. We only need one pattern for each shape of cushion that you need.
Step 4:
To equally balance your pattern, simply fold down the middle, cutting where necessary. It may take a couple of attempts before you are satisfied with your drawing or your pattern. Again, your new cushion will be cut to exactly the same shape as your finished pattern so please double check your pattern and corners on your furniture.
Step 5:
Please mark your template with your name, invoice #, thickness, quantity, fabric choice, boxed or corded, where the zipper should be placed and any other options such as tie and break locations.
After ordering, please mail templates to:
Cushion Source
Attn: Template Order
3400 Ridgeway Drive, Unit 1
Mississauga, ON L5L 0A2
Do NOT send templates without ordering first.