Learn how custom bench cushions can transform your decor
The addition of bench seating is a simple way to enhance the look and comfort of your home or garden.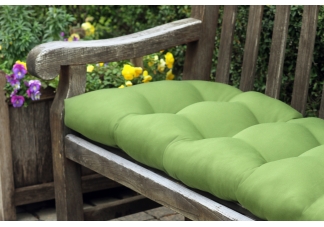 A popular "go-to" seating arrangement for various functions throughout the year, outdoor benches are also decorative and comfortable for everyday use -- especially when finished with a custom cushion that radiates your personal style.
Providing stylish seating for two or more people, garden-style benches add a classic or modern twist of architectural style to your outdoor living space. Cushions increase the usefulness and character of a bench by providing improved comfort as well as visual interest.
It can be a challenge to find a pre-made bench cushion that meets your expectation of quality -- whether it's craftsmanship, material choices or textile options. It's also difficult to find exact-match dimensions, desired cushion thickness or favourite fabric colour when shopping around for the right bench cushion. Settling for store-bought stock cushions likely won't fit your needs, and the alternative of hiring an interior designer can be extremely pricey.
Thanks to Cushion Source's Canada manufacturing facility, it's easy to tailor detail-specific bench cushions to precise measurements using the right cushion filling, fabric type and colour.
From an English formal garden to an indoor entryway or mudroom, bench-style seating beckons for a custom bench cushion in almost every setting. By designing your custom style, you can take a plain, space and turn it into an inviting, practical perch. With hundreds of fabric variations to choose from, a custom-made bench cushion can be designed for use as an outdoor seasonal display of colour or fashioned in patterns to reflect a home's innermost architectural style.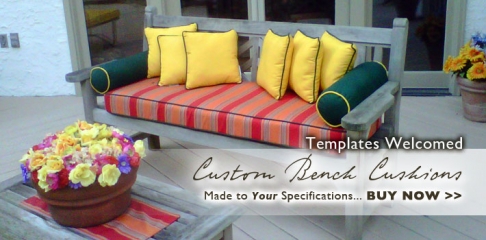 With such a distinguished offering of both Sunbrella and Robert Allen brand fabrics, custom bench cushions are tailor-made in your choice of a multitude of bold or calming colours, textures and styles that can reflect any surrounds. From 100-percent cotton fabrics to solution-dyed acrylic fabrics, there are bench cushion possibilities for both interior and exterior applications, no matter the season.
Best of all, your cushions will be made right here in Toronto, Canada -- not in China like those sold in major retail stores.
A fully-clad bench cushion by Cushion Source will inevitably transform your bench seating into a more attractive, lucrative and favourable space for "go-to" seating at any time of year.